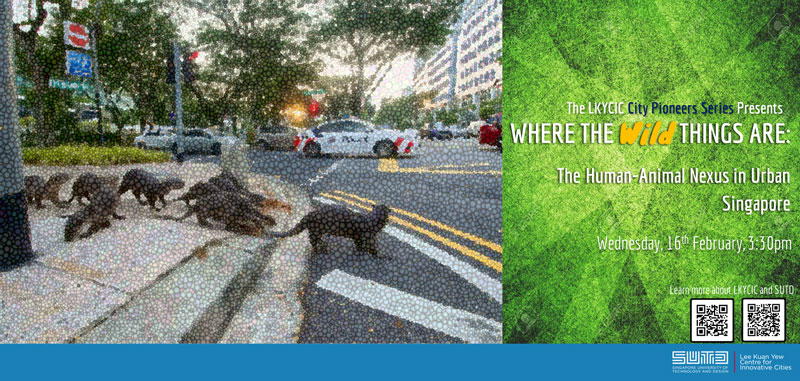 Even as otters and other sighting of wild animals make headlines for the rare glimpses they provide into a hidden wild world of Singapore, their existence is not all rosy. That Singapore is a wholly urbanised city-state makes more compelling the need to understand how humans relate to animals.
Through three seemingly unconnected vignettes, the upcoming LKYCIC talk on will locate the human-animal nexus within various geographical motifs and the lived experiences of people in an age of information explosion.
Learn more and understand where we stand with regards to wildlife in Singapore – whether we are being invaded, or are we the invaders?
尽管水獭和其他野生动物的目击事件因它们罕见地瞥见新加坡隐藏的野生世界而成为头条新闻,但它们的存在并不全是美好的。新加坡是一个完全城市化的城邦,这使得了解人类与动物之间的关系变得更加迫切。

通过三个看似毫无关联的小插曲,即将到来的 LKYCIC 演讲将在各种地理主题中定位人与动物的关系,以及信息爆炸时代人们的生活经历。

了解更多信息并了解我们在新加坡野生动物方面的立场——我们是被入侵还是入侵者?

Date: 16 February 2022
Time: 3.30pm
Registration Link: https://www.sutd.edu.sg/About/happenings/Events/2022/2/Where-the-Wild-Things-Are-The-Human-Animal-Nexus